Posted on Thursday, January 3, 2019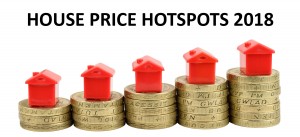 It comes as very little surprise to Mark Woolley, Managing Director of Woolley & Parks Estate Agents that Driffield comes 8th in the UK and top in Yorkshire for house price growth in 2018 according to the Annual Zoopla House Price Report [View Report Here]
"As the leading agent for sales & new homes in Driffield we have seen a huge surge in demand for homes throughout 2018, especially from out-of-town family buyers and indeed our average house price at exchange has leapt from £178,297 in 2017 to £191,417 in 2018, a 7.36% increase in the year". Back in September 2015, Driffield became the 19th place in the UK and judged 1st in Yorkshire as the best place to raise a family by the One Family group, since then the town has continued to develop and flourish and worthy of its Capital of the Wolds title.
"We have already seen a steady increase in the building of new homes in the town this year with many more still to come in 2019 and this is great news for Driffield. Attracting new buyers to the town will be a catalyst for further improvements to the thriving high street, great schools and recreation facilities as well as providing much needed affordable homes for local people". The accessibility of cities such as York, Leeds and Hull by road and rail means that employment is readily accessible, but Driffield remains more affordable from a housing point of view and a great place to raise a family.
Buyer activity in 2018 has been very strong, however the supply of properties coming onto the market has not really increased year on year, and therefore the economic forces of supply and demand have helped drive some of this house price growth. "Even with Brexit around the corner and uncertainty in the housing market in southern areas of the UK, we are seeing absolutely no negative effect on the local property market, quite the opposite and we strongly believe house prices and demand will continue to rise in 2019 in the area, says Mark".
If you are considering moving home, selling New Build homes or looking for development land in 2019 in one of the UK's property hotspots and looking for a market leading Estate Agent to get you the best possible price with an Exceptional service, as judged by Rightmove, then please give our team a call on 01377 252095.

Wishing you all a Happy and Prosperous New Year.
Mark Woolley 03.01.2019