Posted on Thursday, September 26, 2019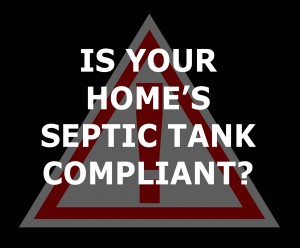 If you're building, reside in, or own property off the mains drainage network it's crucial that you're in the know about the changing septic tanks legislation. With many properties around Driffield and Beverley utilising Septic tanks, we feel it is important to be ahead of the curve.
In an attempt to battle water pollution, the Environment Agency has put down General Binding Rules, which means you have until 1 January 2020 to upgrade or replace your septic system.
Septic tanks can contaminate groundwater supplies and surface water in lakes, streams, and rivers. Such contamination can render supplies unsuitable for drinking and cause harm to the environment, with social and economic ramifications.
The legislation of septic tanks started in 2010. Around this time, all septic tanks had to undergo registration. In 2011 the Government revised this approach and doled out a consultation in 2014.
In January 2015, new regulations were made following the consultation. Septic tank regulations 2015 dictate the way septic tanks are controlled in England, improving water quality and safeguarding the environment.
If your septic system was installed and discharging before this date, you've what is known as 'existing discharge.' If it was installed and discharging after this date, you've a 'new discharge.'
Formerly, you could discharge the waste from septic tanks in two ways:
1: Soakaway System
The effluent is discharged through a network of drainage pipes in nearby sub-soils, providing another form of treatment for the wastewater from the septic tank. This helped make sure that the wastewater being released didn't cause pollution.
Septic tanks discharging into a drainage field aren't affected by 2020 septic tank soakaway regulations.
2: Waterway
The sewage runs through a pipe directly into a lake, river or stream. The new rules do affect the direct discharge to a waterway as they simplify that direct septic tank discharge into a ditch will no longer be allowed.
If you've a septic tank, by law, you must act per the 'general binding rules' by making sure your system is properly maintained and doesn't cause pollution.
Additional protection is in place in zones classified as environmentally sensitive, where people might need to request for a permit.
New Septic Tank Regulations In 2020 Explained
So what changed as of 1 January 2020 with regards to septic tanks?
Well, if you're accountable for a property that has a septic tank or are buying an estate with a septic tank, you need to be conversant with the upcoming legal requirement to upgrade by 2020, which could affect you.
Please use this info to find out if you'll be required to take action towards compliance before 1 January 2020 to avoid violating regulations and suffer an unwanted fine equating to £100,000:
Septic Tank Regulations England
A septic tank settles the solids in the wastewater and then discharges the liquid septic waste to the ground through a well designed and made drainage field – Not an Ezy drain, tunnel, soakaway crate, or soakaway pit. These are inadmissible for wastewater dispersal.
Septic tanks cannot discharge to surface water drains, rivers, canals, ditches, streams or any other type of waterway.
Under the new Environment Agency Septic Tank General Binding Rules, if you've a specific septic tank that discharges to surface water (river, stream, ditch, etc.) you are required to upgrade or replace your septic tank treatment system to a full sewage treatment plant by 2020, or when you sell property, if it's prior to this date.
For more details on this issue, you can contact Robinson's Builder's Merchant in Catfoss. They are local experts who can help you solve any septic tank related issues to ensure your property is conforming with the new rules.
For further details, contact Woolley & Parks Beverley on 01482 755700 or Driffield on 01377 252095
Article Credit: Easymerchant