Posted on Friday, May 24, 2019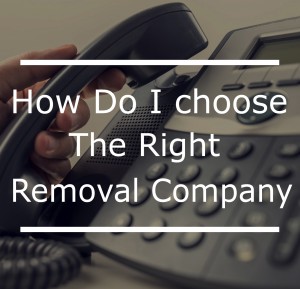 How to Choose The Right Removal Company
It's important to choose the right removal company when it comes to moving house. By ensuring the company has the right insurances and accreditations in place, you'll have peace of mind that your personal belongings are protected throughout the move.
This article will guide you through the 5 things you should look out for when choosing the right removal company, from checking out their reviews to knowing the right accreditations, we will cover everything.
1. Use a comparison website
To find a trusted and verified local removal company, it's important to use a comparison website to help in your search. They will be able to gather together the best removal companies in your area, giving you a variety of choices.
With a comparison website, you can also guarantee you're getting the best price for your removal company too. You'll be able to compare a few quotes from different companies and really narrow down your search.
2. Look for accreditations
It's important that your chosen removal company is accredited to show that you can trust them. The British Association of Removers (BAR) is the most recognised accreditation for removal companies to have.
If you see the BAR sign, you should have peace of mind that the removal company performs to a high standard. All BAR regulated removal companies must meet a level of excellence and follow a strict code of practice.
3. Make sure they have insurance
Any reputable removal company will have Goods in Transit insurance and Public Liability insurance, so your personal items are covered in the worst case scenario. These are the basic insurances that removal companies should have set in place.
If the company has extra insurance policies in place, then you know you and your personal belongings will be in good hands throughout the move.
4. Read their reviews
By checking the company's reviews, you can see what customers who have actually used the company have to say about their experience. This will highlight any red flags in your investigation of the removal company, helping to figure out if the company is right for you and your requirements.
Reading reviews will give you peace of mind that you can trust the removal company to deliver a professional removal service.
5. Get recommendations
Ask friends and family if they can recommend a removal company that they've had first-hand experience with. Your friends and family won't put you in touch with a cowboy removal company, so you should take them up on their removal company recommendations.
If someone you know and trust can only praise the removal company that helped them with their move, then you know you'll be in good hands with their recommendation.
If you stick to these 5 tips, you'll be guaranteed to find a reputable and trusted removal company to help with your house move.