Posted on Friday, April 12, 2019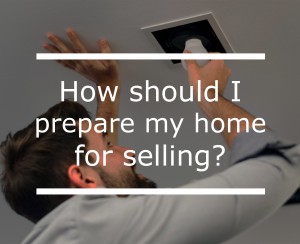 Selling your house can be a very exciting time. For whatever reason you may be selling, from moving onto pastures new near or far, to up-sizing or downsizing. It's about building and working towards the future. You've already made that first step; found the estate agent you're comfortable with who has come and given you a valuation, taken pictures and is preparing to advertise your property to help you get the best deal in the best possible time. But what happens next? Well it's up to the estate agent to help you find that buyer! But what can you do as the seller to try and help you get the most value from your property? There are lots of different ways you can prepare your house for selling.
Start by de-cluttering your house. Potential buyers will be trying to envisage living in that space with their own stuff, their own furniture and household items. By ensuring the space is clear and well presented, people will have a much clearer view on ensuring their living space. That being said, it's also important to show off your house's personality. You want to show potential buyers that you have enjoyed living in your house – it is a wonderfully comfortable place to live. By removing all your goods to look like a generic show-house, this can make your house look cold and unimaginative, not helpful when you have buyers trying to envisage living there themselves.
So now your house is tidy and clean and well presented, what's next? Take a look around. That mark on the wall from where you caught it bringing the table in, that cracked tile that has been there forever, that carpet that is looking a bit threadbare. By replacing and repairing these things before viewing, it can help any potential buyer concentrate on all the amazing things your house has to offer. Remember, a lot of buyers will want to move in without making changes.
Your next step is thinking "how can I give a good first impression?". The very best way to do this is often with a good fresh lick of paint! Neutral colours will help your home seem lighter and bigger – it will enable people to imagine how they would change it to make them feel more at home themselves. Even giving the front door a fresh paint with a bright colour will catch eyes from the off!
Finally, there are a few more things to keep on top of. Getting the right smells in your house is important – clear your drains, wash your bins, open some windows and air out the rooms. Leave the place smelling and feeling fresh. Clean and shiny windows help all that light get in and look sparkling. Replace that broken light-bulb, cut the lawn, tidy the garden and make it look pretty and inviting.
Some of these things may seem like quite small things to do, however, just by implementing and concentrating on the little things, it will help ensure your property is sold faster and can potentially add thousands of pounds to its value. Remember, your property is in the eye of the beholder – what one person might see may not suit another but making the best out of your house will help any potential buyer find it a lot easier to see themselves living there and give you a greater chance of getting that offer.